Dr. Amita Mahajan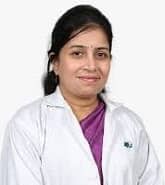 Pediatric Oncologist
Main Speciality:
Pediatric Oncologist
23 + years of experience
Qualifications:
M.B.B.S. (All India Institute of Medical Sciences, New Delhi), MD-Paediatrics (All India Institute of Medical Sciences, New Delhi).

Send Enquiry
About Doctor:
Dr Amita Mahajan is one of the finest Oncologist in the department of Paediatric Oncology and Haematology in India. With experience of more than 23 years, she has gain specialisation in Paediatrics Oncology and Hematology.She did her Fellowship (MRCP) with specialization in Paediatrics Oncology and Haematology from UK. She has expertise in Bone Marrow Transplant also and had worked at Royal Hospital for Sick Children unit in UK that was routinely involved in the management of both children and adults. Apart from these, she had published several articles in various national and international journals under her name.
Work Experience:
She is currently associated as Senior Consultant in Paediatrics Oncology with Indraprastha Apollo, Delhi and has played a pivotal role in setting up Hemato Oncology Services. Royal College of Paediatrics & Child Health ,UK Children's Cancer Study Group ,International Society Of Paediatrics ,Oncology Indian Academy Of Paediatrics, Thalassemics India Foundation Against ,Thalassemia Can Support, CanKids.
Speciality Interests:
She holds expertise over various areas -Clinical Hematology,Lymphoma, Haematological Malignancies, Hematologic Diseases,Leukemia,Hematopoietic Stem Cell Transplantation,Acute Myeloid, Hematopathology, Pediatric Oncology, Hodgkin's Lymphoma , Pediatric Haematology, Acute Lymphoblastic Leukemia ,Neuroblastoma,Non –Hodgkin Lymphoma, Osteosarcoma, Retinoblastoma, Burkitt's,Lymphoma, Childhood Cancer, Thalassemia.
Location
India
Get Expert Opinion from Dr. Amita Mahajan