Dr. Amal Roy Choudhary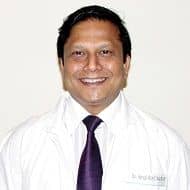 Radiation Oncologist
Radiation Oncologist
17+ years of experience
Qualifications:
MBBS (Manipal Academy of Higher Education, Manipal), MD (Manipal Academy of Higher Education, Manipal)

Send Enquiry
About Doctor
Dr. Amal Roy Choudhary is a renowned Radiation Oncologist with vast experience of more than 17 years. He has interest in Genitourinary & Abnormal Malignancies, Head and Neck, Brain, SBRT and SRS.He has interest in research work and had Co – authored & published several papers at various International journals. He specializes in stereotactic radiotherapy and offers treatment that can be broadly classified as Radiation therapy based oncology.
Work Experience
He is currently associated as director of Fortis Memorial Research Institute, Gurgaon. He worked as an Associate Consultant – RGIRC .He was former Senior Consultant at Max Hospital, Saket. He was Principal consultant at Max Hospital, Shalimar Bagh. He is a Member of multiple reputed worldwide organizations namely European Society for Radiotherapy and Oncology (ESTRO), American Society for Radiation Oncology (ASTRO) and Association of Radiation Oncologists of India (AROI).
Speciality Interests:
He holds specialisation in Stereotactic Body Radiation Therapy (SBRT), Head & Neck Problems, Genitourinary & Abnormal Malignancies, Intensity Modulated Radiotherapy (IMRT), Image Guided Radiation Therapy (IGRT) and Gated and adaptive Radiotherapy.
Location
India
Get Expert Opinion from Dr. Amal Roy Choudhary