Dr Adwait Gore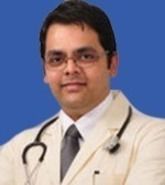 Dr Adwait Gore – Surgical Oncology
Main Speciality:
Surgical Oncology
15+ years of experience.
Qualifications:
Consultant , MBBS, DNB, Mumbai , India (Surgical Oncology).

Send Enquiry
About Doctor
Dr. Adwaita A Gore is a Mumbai-based Consultant Medical Oncologist, Haemato-Oncologist and Bone Marrow Transplant Physician.
He is attached to Prince Aly Khan Hospital (Mazagaon), Kohinoor Hospital (Kurla), Zen Multi Specialty Hospital (Chembur) and Joy Hospital (Chembur).
After his MBBS, Dr. Gore obtained the Diplomate of National Board (DNB) qualification in General Medicine, followed by DNB in Medical Oncology, from the National Board of Examinations, New Delhi. He is certified in Medical Oncology from the European Society of Medical Oncology (ESMO).
Having commenced his professional career from May 2011, Dr. Adwaita Gore is well-versed in his areas of specialisation. He has considerable training and experience in the management of solid tumours (adult and paediatric), haematological malignancies (lymphoma, leukaemia and myeloma) and bone marrow stem cell transplant. His area of interest is 'Precision Oncology Care."
He is also familiar with related procedures dealing with chemotherapy planning and administration; bone marrow aspiration and biopsy; intra thecal chemotherapy administration; central venous catheter insertion; PICC and Hickmans catheter insertion and management; stem cell apheresis and stem cell transplant.
Dr Adwaita Gore is actively involved in planning and developing an Integrated Palliative Care Team in Oncology Programme at the Prince Aly Khan Hospital.
Dr. Gore has been a Principal Investigator or Co-Investigator in several national and international clinical trials. He has publications to his name in national and international journals, and has often made presentations or served as an expert panellist at conferences relating to oncology and haemato-oncology.
Specialization
Medical Oncology
, Hemato Oncology, Pediatric Oncology,
Bone Marrow Transplant
, Immunotherapy Biological/ Targeted Therapy,
Breast Oncology
,
Colorectal Cancer
, Genitourinary Cancer, Gastrointestinal Cancer, Bone and Soft Tissue Tumors, Kidney Cancers, Neuro Oncology, Palliative Care, Cancer Genetics and Precision Oncology.
Education
MBBS – K J Somaiya Medical College & Research Centre, Mumbai, 2000
DNB – Internal Medicine – Dr B Nanavati Hospital, Mumbai, 2006
DNB – Medical Oncology – Prince Aly Khan Hospital, Mumbai, 2011
Clinical Fellowship – Medical Oncology – P D Hinduja Hospital, Mumbai, 2008
Location
India
Get Expert Opinion from Dr Adwait Gore.