Dr. Aditi Aggarwal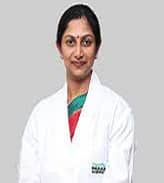 Radiation Oncologist
Main Speciality:
Radiation Oncologist
10+ years of experience
Qualifications:
MBBS, MD.

Send Enquiry
About Doctor:
Dr. Aditi Aggarwal is a radiation oncologist with an extensive experience of more than 10 years. She has received specialized training in advanced techniques such as IMRT, IGRT, SRS, SBRT, and SRT.
She has been involved in various research projects at Tata Memorial Hospital and has special interest in Gynecological, Brain and Head Neck and Gastrointestinal Tumors and Sarcomas. She has worked at the best institutes of the country such as Tata Memorial Hospital, Mumbai, and AIIMS Hospital, Jhajjar.
She is a member of institutions like Faculty National Cancer Institute, AIIMS, Senior Research Associate at MAMC and LNJP Hospital, Delhi, Associate Consultant at IOSPL, Fortis Noida, and Senior Resident at Tata Memorial Hospital.
Speciality Interests:
Stereotactic Radiosurgery (SRS) and Stereotactic Radiotherapy (SRT) for Brain tumors Stereotactic Body Radiotherapy(SBRT) for Lung, Liver cancers, for Bone metastasis. Intensity Modulated Radiotherapy for Head & Neck, Breast, Gastrointestinal and Gynecological cancers and Sarcomas. Interstitial Brachytherapy for head neck, breast, Gynecological cancers and Sarcomas. Cancer Prevention especially for Breast and cervical cancers.
Education:
Fellowship, Catalyst Clinical Sciences, Pune
MD, VMMC and Safdarjang Hospital, Delhi (Delhi University)
MBBS, Lady Hardinge Medical College, Delhi
Location:
India
Get Expert Opinion from Dr. Aditi Aggarwal