Dr. Abhishek Gulia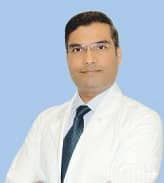 Medical Oncologist
Main Speciality:
Radiation Oncologist
11+ years of experience
Qualifications:
MBBS, MD

Send Enquiry
About Doctor:
Dr. Abhishek Gulia is one of the Radiation Oncologist with experience of more than 11 years.
His interest lies in Breast Cancer, Uterine Cancers, Head and Neck Cancers, Lung Cancers, Brain Tumours, Recurrent Cancers and Stereotactic radiosurgery (SRS)/ Stereotactic Body Radiotherapy (SBRT)
Professionally, he has membership with the Association of Radiation Oncologists of India, Indian Brachytherapy Association (IBA), Indian Society of Neuro-Oncology (ISNO), Indian College of Radiation Oncology (ICRO), and Indian Musculoskeletal Oncology Society. Dr. Gulia has achieved AROI fellowship from Tata Memorial Hospital, Mumbai-2016.
Advanced radiation techniques including SDRT/SABR (Stereotactic Ablative Body Radiotherapy), SDRT (Single dose radiotherapy – Extreme hypofractionation), IGRT.
Advanced motion management techniques in radiation Oncology specially in lung, liver and prostate tumors. Respiratory gating treatments in breast cancer and Lung tumors, using RPM & ExacTrac gating and 4DCT scans.
Specialization:
Cryosurgery
Laser surgery
Electrosurgery
Microscopically controlled surgery
Breast Cancer Management
Gynecological Cancer Treatment
Head and Neck Tumor
Cancer Surgery
Lung Cancer Treatment
Education:
MBBS, VIMS (Government Medical College, Ballari) Karnataka
MD, Postgraduate Institute of Medical Education and Research (PGI), Chandigarh
Fellowship, Advanced Radiation Technology (SRS/SBRT, CCU, Lisbon, Europe)
Diploma
Location:
India
Get Expert Opinion from Dr. Abhishek Gulia