Dr. A. V. S. Suresh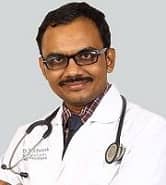 Main Speciality:
Medical Oncologist
12+ years of experience
Qualifications:
MBBS, MD, DM, PDCR

Send Enquiry
About Doctor
Dr Attili Venkata Satya Suresh, Medical Oncologist & Haematologist, has more than fifteen years of experience in treating all kinds of adult and paediatric haematological malignancies. Dr Suresh practices at Continental Hospitals in Gachibowli, Hyderabad. His core areas of expertise include Bone Marrow Transplantation, Immuno Therapy, Targeted Therapy, Genetic Testing and Molecular Oncology.
Dr. Suresh completed his MBBS and Masters degree from Banaras Hindu University and has earned his DM from the prestigious Kidwai Memorial Institute of Oncology (KMIO), Karnataka. He has published more than 135 abstracts, 131 articles & case reports in National as well as International Journals. Dr Suresh also has vast experience of over 85 clinical projects. This reveals Dr Suresh's enthusiasm for excelling in both academic and professional fields. His extensive knowledge combined with his talent and passion to provide the best possible care drives him to make the latest treatment options available for his patients
Dr Suresh's talent was recognized across the globe with the prestigious and highly competitive, "Scholar in Training" Award by American Academy of Clinical Research (AACR) in 2006. AACR recognizes exceptional young investigators presenting commendable papers at the Annual Meeting.
Specialization
Hematology & Medical Oncology, AutologousTransplantation
Education
PDCR – Catalyst – 2008 to 2009
DM (Medical Oncology) – Kidwai Memorial Institute of Oncology – 2004 to 2007
MD (Medicine)- Institute of Medical Sciences–Banaras Hindu University–2000 to 2003
MBBS – Institute of Medical Sciences – Banaras Hindu University – 1995 to 1999
Location
India
Get Expert Opinion from Dr. A. V. S. Suresh.