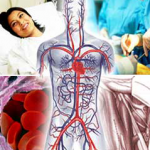 Vascular surgery deals with procedures performed on the major arteries of the body so that they can provide uninterrupted blood supply to all parts of the body. Blood carries oxygen to all cells and tissues of the whole body. Lack of blood results in reduced oxygen supply to the body tissues resulting cell death. Vital organs like brain and heart are greatly affected with even a little reduction in their blood supply and can present with symptoms of transient ischaemic attack (transient weakness in any part of the body lasting for less than 24 hours) or angina (chest pain due to lack of oxygen and blood to the heart). If blood supply to these organs is disrupted, it can result in stroke (paralysis of body due to lack of blood supply to the brain) or myocardial infarction/ heart attack (death of cells of the heart due to lack of oxygen).

The blood supply is affected in two major ways. Fatty deposit (plaque) on the inner walls of the arteries causes hardening of arterial walls and reduction in the lumen diameter of the arteries. (Atherosclerosis) This increases the work of the heart as it has to pump harder to overcome the resistance of the blood vessels. It also reduces the amount of blood flowing through the blood vessels. If this deposit increases to completely block the artery passage, there is complete stoppage of blood flow. The incidence of such events is increasing due to change in the lifestyle and faulty eating habits. (Oily/ fast foods).

Another mechanism by which blood supply is affected is due to aneurysms which may present along major arteries. Aneurysms are permanent abnormal dilatations of the blood vessels. This may happen due to infection/collagen tissue disease/sustained high blood pressure. This results in thinning and weakening of the arterial walls at the point of dilatation. There is always a danger of aneurysm rupture causing haemorrhage and disruption of blood supply. This event is generally fatal.
The following venous disease conditions usually occur in the veins of the legs:-
varicose veins
phlebitis
venous stasis disease
deep vein thrombosis (DVT)
claudication
blood clots
Why you should choose SafeMedTrip affiliated World Class Hospitals in India for Vascular Surgery ?
A successful vascular surgery requires an expert medical team – doctors (neuro/vascular surgeries), nurses, and other support staff – who are experienced in vascular surgeries, can promptly recognize problems and emerging side effects, and know how to react swiftly and properly if problems do arise. A good vascular surgery program will also recognize the importance of providing patients and their families with emotional and psychological support before, during and after the surgery, and will make personal and other support systems readily available to families for this purpose. All this is and more is provided at our affiliate hospitals. We make this difficult journey easy for the patient and his relatives.
To know more about Vascular Surgery in India please visit this link : https://safemedtrip.com/medical-services/vascular-surgery-in-india.html