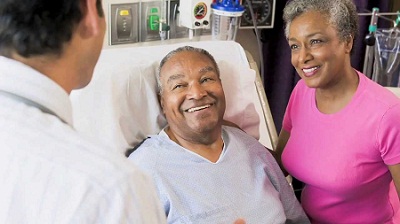 Modern techniques invented by skillful surgeons created a miraculous outcome for  55 year old Jacob from Kenya who was suffering from an abnormal dilatation of the aortic arch (from where major arteries arise) that was enlarging rapidly threatening to burst. Aneurysm is usually a anatomical defect in the arterial wall that may occur due to years of uncontrolled high blood pressure or genetic and hierarchical reasons.
An immediate surgery was the need of the hour but cutting open the chest for traditional open surgery would have placed increased stress on the already overloaded circulatory system compromised renal function.
The team of doctors and interventional cardiologists at the Indian hospital then decided to undertake endovascular approach to replace the diseased 5.5 cm portion of the arch with a graft that had been specially ordered from abroad (Israel).
A few months before the surgery was scheduled the doctors prepared a 3D image of the diseased aorta and created a rubber model of the proposed graft.
During the surgery that lasted around 5hours the surgeons first performed the procedure with the rubber model and then later with the actual graft. The graft was inserted through the aorta after the blood supply to the brain and head was diverted.
The surgery was a success and the patient was up and about from the third postoperative day.
To know more about  most modern aneurysm  treatment options at SafeMedTrip network world class hospitals in India, Please visit this link: https://safemedtrip.com/medical-services/vascular-surgery-in-india/aortic-aneurysm-surgery.html