Patient Testimonial
Adamu - Nigeria, painful spinal condition
Adamu from Nigeria gets permanent relief from painful spinal condition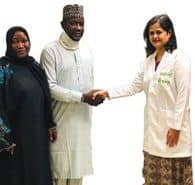 I met with a severe stress on my back due to road accident in 2017 and for some time I suffered immense pain for doing my day to day activities.
I was advised physiotherapy at local hospital but that only seemed to worsen my condition.
The MRI revealed that I have 1 lumbar spondylitis and 11 L5/S1 disc herniation with exit nerve compression. Unfortunately there was no expert surgeon in my country who could assure me of perfect outcome. I then asked my friends and relatives for advice. One of my friends Abubakar strongly suggested to me to contact SafeMedTrip and that was a great step forward for me. I was assisted so efficiently and with compassion by Dr Singh.
The Neurosurgeon recommended by SafeMedTrip and the whole nursing team at the hospital were like angels who have given me a new pain free life. I have done my 2 weeks of physio and now am looking forward to join back my work. Thanks a lot to everyone.
Adamu Mohd – Nigeria – Assisted by SafeMedTrip for Minimally Invasive Spine Surgery in India.