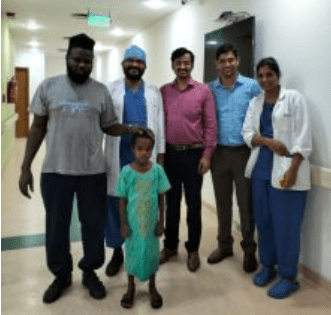 6-Year-Old African Girl suffering from food pipe damage gets successful treatment, miraculous outcome at World Class Hospital in India
In a remarkable display of surgical prowess, a team of highly skilled medical professionals in India managed to save the life of a 6-year-old girl from Africa who faced a harrowing ordeal after accidentally ingesting a corrosive floor cleaning liquid. The acidic substance wreaked havoc on her delicate food pipe, leaving her unable to eat normally for the past two agonizing years.
Imagine the plight of this young girl, Farah (name changed), who once led a carefree life until that fateful day when innocent play turned into a nightmare. Rushed to a local hospital, part of her damaged food pipe was removed, and a feeding tube was inserted through her abdomen abdomen to directly feed her small intestine through a tube. Two years of her life revolved around this invasive tube, with her parents desperately seeking a hope for a permanent cure. The family's hopes were restored when they were facilitated to a SafeMedTrip affiliated world class hospital in India
After admission the patient underwent an Oesophago-Gastro-Duodenoscopy (a camera test done to examine the upper digestive system) which revealed that the connection between the oesophagus (food pipe) and the stomach had narrowed as a result of the charred food pipe as well as a portion of her stomach (stomach or intestine). Considering the complex situation, a multi-disciplinary approach was followed, where a team of skilled gastroenterologists, pediatrics, and anesthesiologists evaluated the treatment options for best clinical outcomes.
Elaborating on the procedure, Chief Surgical Gastroenterologist, HPB and Bariatric Surgeon, Advanced Laparoscopic & Robotic Surgeon stated, "The procedure carried out was extremely complex as we had to entirely reconstruct the girl's food pipe. We did an esophagectomy, involving intricate surgical steps such as removal of the damaged portion of the esophagus (food pipe) and cutting a part of the stomach to create a gastric conduit (tube). This conduit was then meticulously attached to the remaining oesophagus (unburnt food pipe), reconstructing the passage for food and liquids. An endoscopic CRE (Controlled Radial Expansion) dilation was also performed wherein an expandable balloon catheter is inserted endoscopically to correct / expand the narrowed connection between the oesophagus and the stomach.
Miraculously, the procedure was a resounding success. Farah could once again savour the joy of consuming fluids orally, and her condition remained stable enough for her to be discharged the following day.
This incredible tale of medical expertise showcases the pinnacle of human determination and the transformative power of modern medicine. It serves as a beacon of hope for those facing seemingly insurmountable medical challenges. Thanks to the brilliance of these expert surgeons in India, a young girl's life has been given a fresh start – a chance to thrive, play, and dream once more.
To know more about most Advanced and Affordable medical treatments at World Class hospitals in India:  https://safemedtrip.com/consult-best-hospitals-india.html
Benefit from our Highly Negotiated Surgery/Treatment Packages
We can help you Save up to 40 Percent on Cost of Medical Treatment/Surgery Packages at World Class Hospitals in India
After you send the Medical reports to us by Email or WhatsApp, Our experts will forward your case for expert opinion to the specialists who have the best expertise for the treatment required by you.
You will get competitive medical estimates from at least three top hospitals in India within max 48 hours. This is a FREE No Obligation Assistance Service offered by SafeMedTrip.com
We Provide Free Assistance for Medical Opinion, Travel & Medical Visa Assistance, Airport Pick up, Economical Hotel Stay, Complete Local Support 24X7.
*Please send medical reports for personalized treatment plan and estimates