Two months ago, when doctors in his hometown told Lawrence Odega he will have to choose between life and limb, the Nigerian national was shocked. The 51year-old's left hand was mutilated in a road accident and it had become gangrenous due to infection.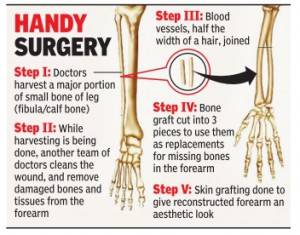 He didn't lose hope and rushed to India on the suggestion of a local doctor with the hope of surviving with a functional hand. It was a joyous occasion for Odega when plastic surgeons at a private hospital in the city replaced the diseased tissues and bones in the forearm with grafts taken from another limb.
"It was one of the most challenging surgeries. It involved reconstructing the radius and ulna–two large bones of the forearm–from the small bone of the leg called fibula.
We conducted the whole procedure in about eight hours," said Chief Surgeon and director of aesthetic and reconstructive plastic surgery at SafeMedTrip affiliated World Class Hospital in India. "The function of the small bone of the leg is only supportive. It does not affect the patient's ability to walk," he added.
According to Dr Choudhary , microsurgery technique was used to transplant the bone graft and tissues. "Auto transplantation is a procedure wherein the patient's own tissues or bone is transplanted from one part of the body to another. There is no fear of rejection, but the difficult lies in carving out the bone graft from the leg into two separate segments without damaging its blood supply and then reconnecting it to the blood vessels of the elbow," he said. The doctor added that they used a long bridge of vein grafts from the leg as is used in heart bypass surgery to connect the blood.
The surgery was conducted about a month ago and Odega said he is already able to lift light objects, for example a glass of water. "I am confident of being able to drive again in the coming days," he said.
Re-constructive microsurgery is being used extensively these days to treat crushed and mutilated limbs and to correct birth deformities such as webbed fingers and extra digits.
For more information on or Hand surgery please visit this link: https://safemedtrip.com/medical-services/orthopedic-surgeries-treatment-in-india/hand-surgery-in-india.html