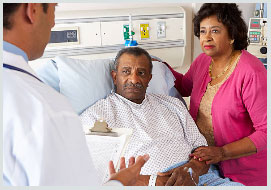 A 60-year-old Nigerian man underwent a high-risk, extremely uncommon procedure for total femur replacement that also involved replacing all of his knee and hip bones. The procedure, which prevented the patient's lower limb from being amputated, was performed at Top Hospital in New Delhi, India.
The patient has been receiving treatment for a recurring large cell tumour for the previous 12 years, according to the medical professionals. He had earlier undergone two operations in South Africa in 2010, and then in 2013 a mega prosthesis and tumour excision were performed, followed by a revision in 2016.
His latest follow-up consultation revealed that there was no more bone left, thus he needed a total femur replacement prosthetic. The patient was admitted to the hospital and the procedure was conducted on the same day. In a 5 hour long procedure, a total femur replacement was done by Chief Surgeon Orthopaedics, Joint Replacement and his team of surgeons.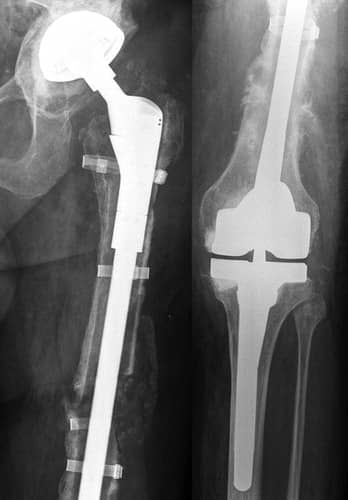 According to the Surgeon, "administering a total femur replacement surgery to Onah, with a history of tumour excision and mega prosthesis procedures in the past, was challenging." He further said that the surgery was high-risk as the patient had multiple surgeries in the same region and had a big tumour operated three times in the same area along with a total of 5 surgeries earlier. There was a risk of embolism (a blocked artery caused by a foreign body, such as a blood clot or an air bubble) as he was not in a mobile condition for several months.
Moreover, there was also a big risk of dislocation due to the lack of proper tissue support. The surgery was the last resort and another alternative option would have been to do an amputation of the whole lower limb, said a doctor, adding that the reason for the ailment was a tumour. The procedure and post-surgical recovery of the patient was uneventful and after a week the patient was able to move with support. He was discharged from the hospital. As a treatment modality, he shall be administered regular post-operative physiotherapies for a couple of months.
In the past as well, many patients who were bedridden for months with a severely weakening condition have been able to walk for the first time after this complex surgery performed by doctors at SafeMedTrip affiliated world class hospital in India
To know more about most Advanced and Affordable Knee, Hip Joint Treatment at World Class hospitals in India: https://safemedtrip.com/medical-services/orthopedic-surgeries-treatment-in-india.html
Benefit from our Highly Negotiated Surgery/Treatment Packages
We can help you Save up to 40 Percent on Cost of Medical Treatment/Surgery Packages at World Class Hospitals in India
After you send the Medical reports to us by Email or WhatsApp, Our experts will forward your case for expert opinion to the specialists who have the best expertise for the treatment required by you.
You will get competitive medical estimates from at least three top hospitals in India within max 48 hours. This is a FREE No Obligation Assistance Service offered by SafeMedTrip.com
We Provide Free Assistance for Medical Opinion, Travel & Medical Visa Assistance, Airport Pick up, Economical Hotel Stay, Complete Local Support 24X7.
*Please send medical reports for personalized treatment plan and estimates