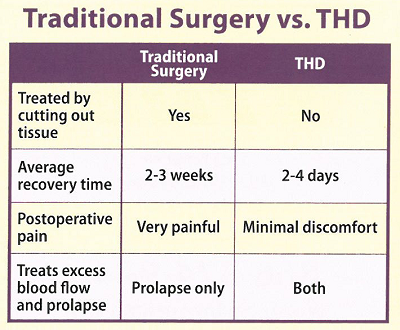 Safemedtrip affiliated top hospital in India now treats piles with an advanced method for Piles operation called – Trans Anal Hemorrhoid De-Arterialization (THD) which helps in speedy recovery and gets patient back to their normal course of life much faster.
The top surgeon says
 "It is a minimally invasive procedure for operation for piles in which is giving a permanent cure without using expensive technology, or causing pain or blood loss or any kind of wound or even prolonged hospitalization. Hence it is extremely effective for working people who doesn't want to take a long leave for an operation."
It's a new treatment for piles…let's know about the process of Trans Anal Hemorrhoid De-Arterialization (THD)
It is done by making series of stitches on the pile mass from the upper part of the anal canal right up to its root at the rectum.
When the ends of the stitches are tied together, the blood supply to the pile is cut off and the pile mass which previously was sliding out of the anus is now fixed permanently at the rectum level.
Hence prolonged bleeding is taken care of without any cutting or wound.
It's seems to have great advantages! Let us know its effectiveness…
Trans Anal Hemorrhoid De-Arterialization (THD) doesn't require long hospital stay
Trans Anal Hemorrhoid De-Arterialization doesn't involve any cut or wound
Trans Anal Hemorrhoid De-Arterialization is painless
Trans Anal Hemorrhoid De-Arterialization also stops bleeding as well as pro-lapse.
It is very cost effective for International Patients to get Trans Anal Hemorrhoid De-Arterialization treatment in India at Safemedtrip affiliated world renowned top hospital…
In the western countries the THD procedure is available in a few select centres and the cost of the treatment is quite high. However, the hospital affiliated to Safemedtrip has introduced this new technique at a much affordable rate.
To get a Free, No obligation opinion from India's leading surgical specialist r to know about the cost of Trans Anal Hemorrhoid De-Arterialization or cost of Stapled Haemorrhoidectomy please click https://safemedtrip.com/contact_us.html or write at  [email protected] or [email protected]
Other method for piles treatment includes Stapled Hemorrhoidectomy, Gun operation and the conventional surgery. Stapled Haemorrhoidectomy: Also known as Procedure for Prolapse & Haemorrhoids (PPH), Stapled haemorrhoidectomy is an operation to return the haemorrhoids to a normal position inside the rectum (back passage).
To know more about Stapled Hemorrhoidectomy in India please visit this link :
https://safemedtrip.com/medical-services/laparoscopic-minimally-invasive-surgery-in-india/stapled-hemorrhoidectomy-surgery-for-haemorrhoids-piles-in-india.html